Her er nattens UFC Fight 131-kort fra Utica, New York!
✅ To fremragende bantamvektere kjemper for tittelkamp i natt ✅ UFC-veteraner som Sam Alvey, Gian Villante, Nik Lentz, Jake Ellenberger og Ben Saunders er med! ✅ To svenske brødre skal kjempe!
I natt settes UFC Fight Night 131: Rivera vs. Moraes (også kalt UFC Utica) igang fra Utica, New York.
Hovedkampen på kortet blir en meget interessant match mellom to av verdens beste bantamvektere hvor Jimmie Rivera setter legger sin seiersrekke på tyve kamper på bordet mot den tidligere WSOF-mesteren Marlon Moraes.
Det har vært mye skitprat mellom de to utfordrene, og vinneren kan forvente seg en tittelkamp mot enten bantamvektmester TJ Dillashaw eller utfordreren Cody Garbrandt.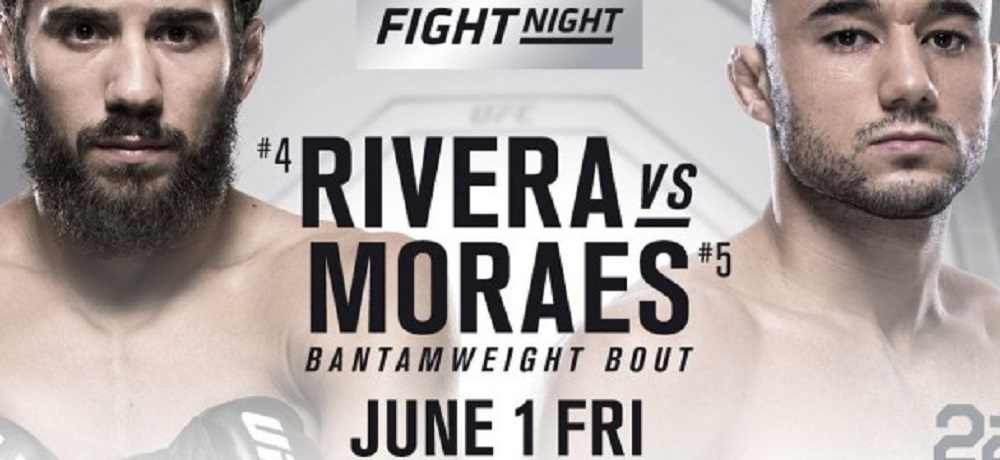 Den delte hovedkampen foregår mellom det ubeseirede talentet Gregor Gillespie som gjør opp mot rutinerte Vinc Pichel i et lettvektoppgjør.
Teymur-brødrene er tilbake!
UFC Fight Night 131 er et viktig kort for våre svenske naboer da de beryktede Teymur-brødrene begge kjemper på New York-stevnet.
Storebror Daniel Teymur går sin andre UFC-match og er ute etter sin første seier i buret når han møter det tøffe "Dana White's Tuesday Night Contender Series"-talentet Julio Arce i en fjærvektmatch på hovedkortet.
Lettvekter David Teymur er satt på underkortet, hvor han etter fire strake UFC-seiere får sjansen til å måle krefter mot en sann veteran i form av Nik Lentz.
UFC Utica: Offisielt matchkort
Se hele matchkortet under, still klokka og sjekk ut oddsen for nattens kamper!
Hovedkort (04.00):
Sendes live på Viaplay Fighting
• Bantamvekt: #4 Jimmie Rivera vs. #5 Marlon Moraes
• Lettvekt: Gregor Gillespie vs. Vinc Pichel
• Tungvekt: Walt Harris vs. Daniel Spitz
• Weltervekt: Jake Ellenberger vs. Ben Saunders
• Fjærvekt: Julio Arce vs. Daniel Teymur
• Lett tungvekt: #15 Gian Villante vs. Sam Alvey
Underkort (02.00):
Sendes live på UFC Fight Pass, Viaplay Fighting
• Kvinnelig fluevekt: #2 Sijara Eubanks vs. #3 Lauren Murphy
• Lettvekt: Nik Lentz vs. David Teymur
• Weltervekt: Belal Muhammad vs. Chance Rencountre
• Lettvekt: Desmond Green vs. Gleison Tibau
Underkort (00.30):
Sendes live på UFC Fight Pass
• Kvinnelig stråvekt: Jessica Aguilar vs. Jodie Esquibel
• Bantamvekt: Johnny Eduardo vs. Nathaniel Wood
UFC Utica: Odds fra Ohmbet
Hele matchkortet er tilgjengelig hos MMAnytts samarbeidspartner Ohmbet – bettingsiden med verdens beste UFC-odds: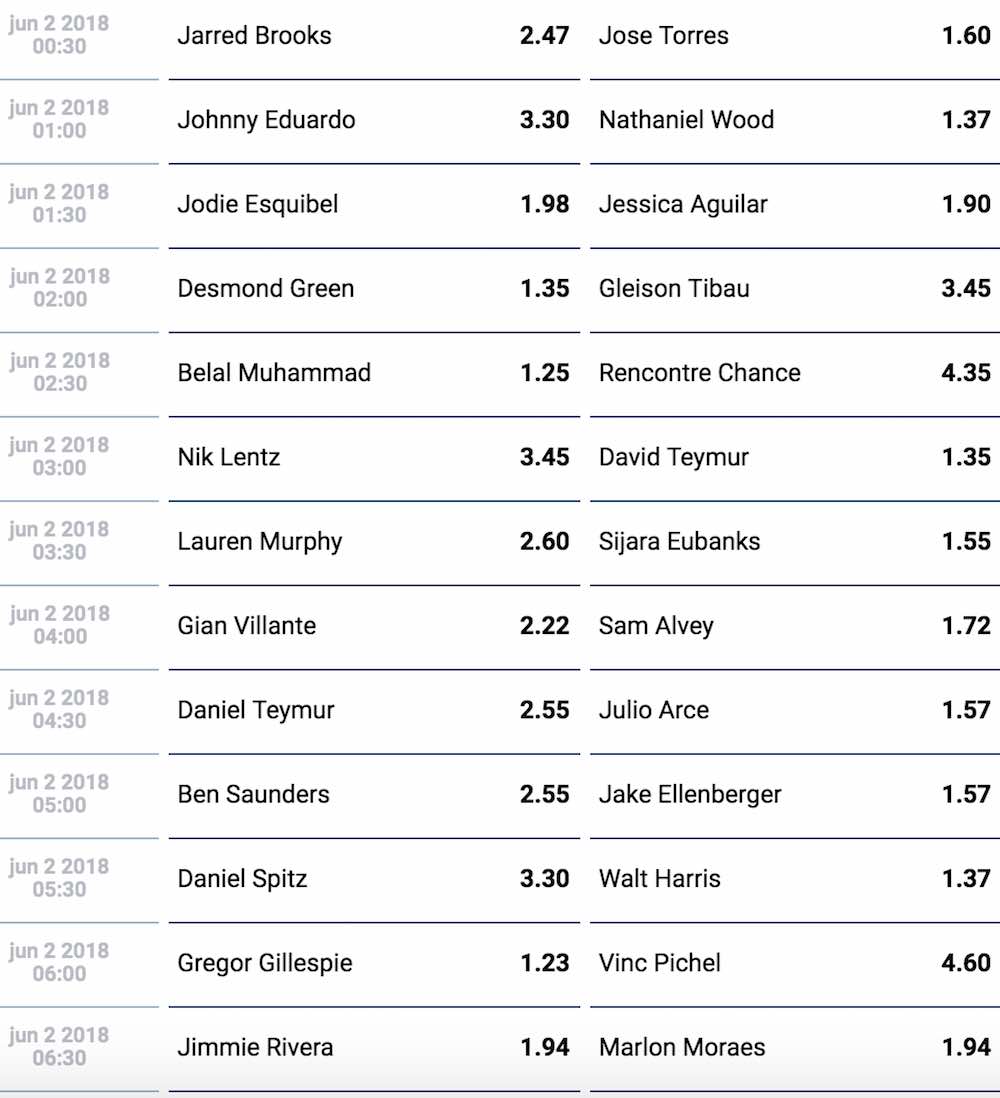 Oddsen forandres – besøk Ohmbet for aktuelle odds.
Plasser et MMA/UFC spill med Ohmbet - største på MMA og få 100% Bonus
Error, group does not exist! Check your syntax! (ID: 88)
Error, group does not exist! Check your syntax! (ID: 89)