McGregor trener jiu-jitsu i New York, mens Ferguson og Alvarez kranger på Twitter
MMA-eliten bruker ikke julen til å bake pepperkaker.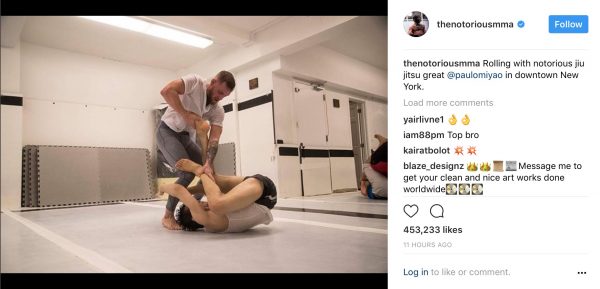 Conor McGregor la Fredag ut et treningsbilde på Instagram. Bildet viser lettvektsmesteren trene jiu-jitsu med 5 ganger verdensmester Paulo Miyao.
Dette kan tolkes som et klart tegn på at McGregor forbereder seg på Tony Ferguson, midlertidig mester i lettvekt, i neste kamp. Ferguson er kjent for å være ekstremt dyktig på bakken, og vunnet 3 av sine 4 siste kamper på submisson.
Imens klarte Tony Ferguson å komme i diskusjon med tidligere mester i lettvekt, Eddie Alvarez på Twitter:
I would rip your skinny body apart if I cared to fight you , but I don't care to fight You soo … Merry Christmas "Champ" ???

— Eddie Alvarez (@Ealvarezfight) December 15, 2017
Alvarez tapte beltet mot Conor McGregor på UFC 205, etter å blitt knocket enkelt ut i andre runde..
Plasser et MMA/UFC spill med Ohmbet - største på MMA og få 100% Bonus
Error, group does not exist! Check your syntax! (ID: 88)
Error, group does not exist! Check your syntax! (ID: 89)